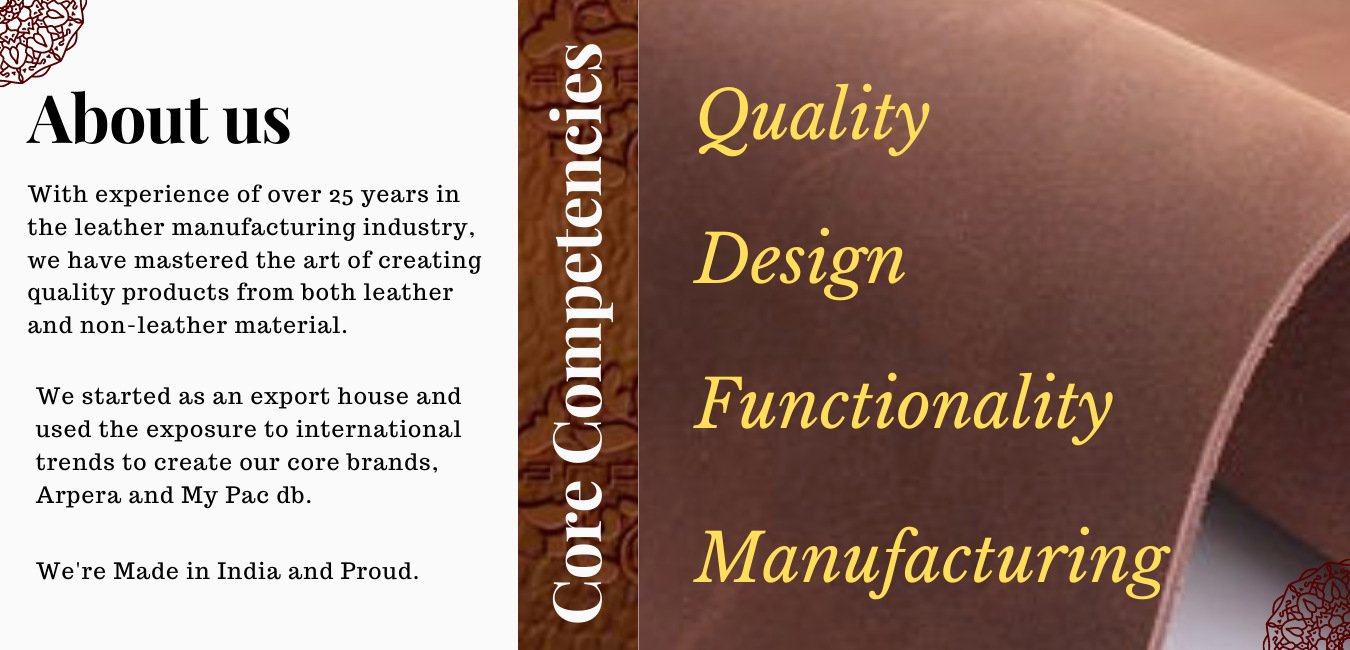 DESIGN
We have been designing handbags and personal accessories for over 2 decades . Our team of designers have constantly created specialised and customised designs which have been accepted and sold successfully by many lifestyle brands retailers and wholesalers across the globe.
Our experience of design is influenced by international designers and our first hand experience of the preferences of demographics of more than 15 countries viz .Germany,Usa,Netherlands,UK,Spain,Italy,Australia,Norway,Greece,Cyprus,Austria,Sweden,India,Portugal, Switzerland.
Proudly designed in India.
MANUFACTURING
Since 1994 our parent company Kamal International located at Kolkata has been engaged in manufacturing activities of leather handbags and personal accessories.
We have a rich history of manufacturing customised products in genuine leather and other variety of synthetic materials with craftsmen with years of rich experience under them. As such our products are unique and reliable.
QUALITY
arpera & my pac db. The design details are meticulous and detailed yet fully capture functionality and ease of use. The quality of materilas,leathers ( Pcp free dyed leathers ),polyesters and fabrics ( generally 100 d and above polyesters with ultra shine is used) used are of very high quality and adhere to international quality standard.
We ensure that you get a product that has undergone thorough checks during and after manufacturing. The quality of Zippers ( double corded nylon zippers and YKK mettalic zippers ) and hardware ( Poly amide -nylon and Zamac based metal fittings ) used is monitored to ensure long reliability and toughness.
Brands we have worked with :
| | | | | | | | |
| --- | --- | --- | --- | --- | --- | --- | --- |
| | | | | | | | |
| Spain | Portugal | France | USA | U K | Sweden | India | India |